The rise of cryptocurrency has significantly impacted the landscape of online gambling, leading to the emergence of crypto casinos. These platforms offer an alternative to traditional online casinos by allowing users to gamble with digital currencies like Bitcoin.
However, the legality of crypto casinos in the US remains a complex issue in 2023. While some argue that trading cryptocurrencies are akin to gambling due to its high-risk nature, others see it as a legitimate form of conducting business, comparing it to transactions in euros or dollars.
As the regulatory landscape continues to evolve, this article will explore the legality of crypto casinos in the US and provide an overview of where you can gamble with cryptocurrency.
What are Crypto Casinos?
These gaming platforms are a modern variation of online casinos that accept cryptocurrency as payment.
These casinos offer games similar to traditional online casinos, such as slots, blackjack, roulette, and poker. The most popular cryptocurrency used in crypto casinos is Bitcoin, although other cryptocurrencies like Ethereum and Litecoin are also accepted.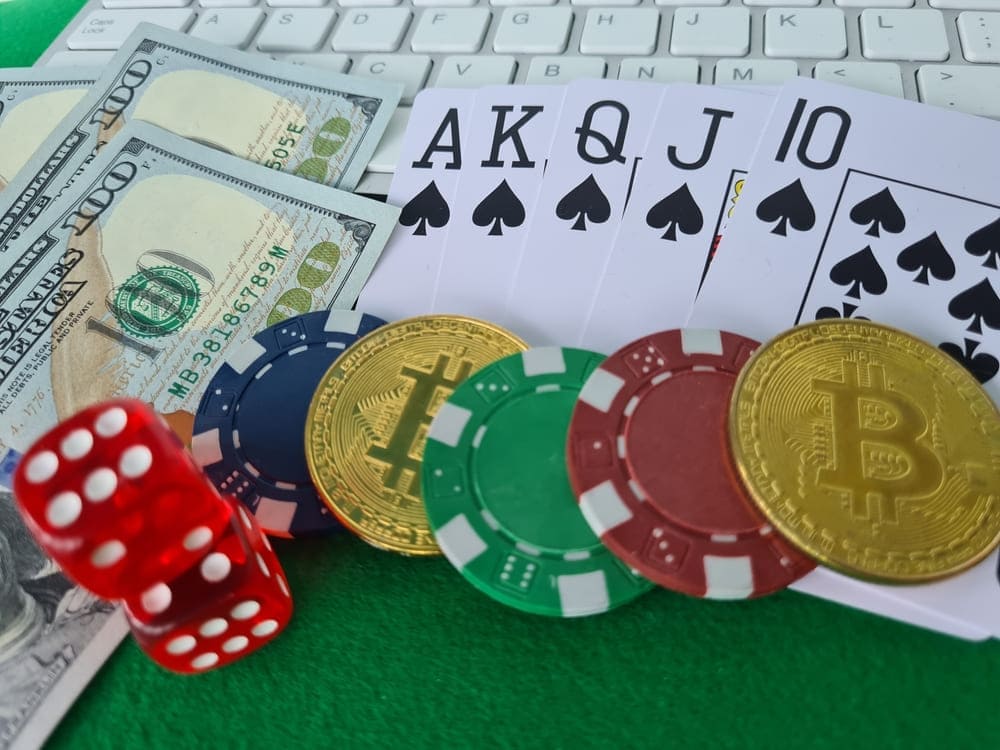 How do Crypto Casinos Work?
The primary distinction between crypto casinos and their traditional counterparts is their choice of currency. Instead of using conventional currencies like dollars or euros, crypto casinos utilize digital currencies such as Bitcoin or Ethereum. Players need to possess a crypto wallet to store and trade their cryptocurrencies securely to participate in a crypto casino.
Why are crypto gambling casinos popular?
The popularity of crypto casinos stems from the increasing acceptance of cryptocurrencies in various aspects of our lives, including industries such as online gambling. As cryptocurrencies continue to transform the future of finance, more players and casinos are embracing the idea of using digital currencies in online casinos.
Legal Landscape Of Online Gambling In The US.
The United States has a complex online gambling, with federal laws overlapping and sometimes conflicting with state laws.
Federal Law vs. State Law
Online gambling regulations primarily fall under the purview of both federal and state laws. While federal laws establish a baseline for the legality of gambling activities, state laws can further restrict or permit various forms of gambling. This characteristic results in a patchwork of regulations that vary from state to state, with some jurisdictions allowing a wide array of gambling options.
In contrast, others strictly prohibit most forms of wagering.
The Unlawful Internet Gambling Enforcement Act ( UIGEA) of 2006
The UIGEA, enacted in 2006, specifically targets online gambling operations. This federal law does not criminalize the act of gambling by individual players; rather, it focuses on restricting the financial transactions related to online gambling. Under the UIGEA, payment processors and financial institutions are prohibited from processing transactions associated with illegal online gambling activities.
This legislation has significantly impacted the online gambling industry, effectively limiting the avenues through which operators can process payments for their services.
The Wire Act Of 1961
The Federal Wire Act of 1961 is another crucial piece of legislation impacting online gambling in the United States. Initially aimed at combating organized crime, the Wire Act prohibits wire communication facilities from transmitting bets or wagers on sporting events or contests.
Although the Wire Act predates the Internet, the Department of Justice (DOJ) has historically interpreted its provisions to apply to online gambling. However, in 2011, the DOJ issued a new opinion stating that the Wire Act only applies to sports betting, thus opening the door for state-regulated online poker and casino games.
The Professional and Amateur Sports Protection Act (PASPA) of 1992
PASPA, enacted in 1992, was a federal law that effectively banned sports betting in the United States, with a few exceptions. Under PASPA, states were prohibited from authorizing, licensing, or operating sports betting activities. The law primarily aimed to protect the integrity of professional and amateur sports from the potential corruption that might arise from widespread sports betting.
The Supreme Court Ruling On PASPA
In May 2018, the United States Supreme Court issued a landmark ruling in the case of Murphy v. NCAA, striking down PASPA as unconstitutional. The Court found that PASPA violated the Tenth Amendment by commandeering state regulatory power. This decision effectively allowed states to legalize and regulate sports betting within their borders. Since the ruling, several states have enacted legislation to authorize sports betting, both online and in a brick-and-mortar casino, dramatically changing the landscape of gambling in the United States.
Our top rated Ethereum casinos
States Where Crypto Casino Is Legal
The Advent of cryptocurrencies has brought about a new era in the world of online gambling. With the benefits of anonymity and censorship resistance, cryptocurrencies have made gambling more appealing.
Crypto casinos, which operate using digital currencies such as Bitcoin, have witnessed a surge in popularity.
Let us explore the legality of crypto casinos in the seven states: Nevada, New Jersey, Delaware, Pennsylvania, Michigan, West Virginia, and Virginia.
Nevada
This state is known for its Las Vegas Strip, it is a pioneer in the gambling industry. While the state has legalized online sports betting, there is no explicit mention of the legality of crypto casinos. However, given the state's openness to gambling, it is possible that crypto casinos.
However, given the state's openness to gambling, it is possible that crypto casinos could operate legally if they adhere to the existing regulations and are registered with the Nevada Gaming Control Board.
New Jersey
New Jersey has legalized online sports betting, with 22 states and Washington, D.C., joining the bandwagon. Crypto casinos seeking to operate legally in New Jersey must register with the state's regulatory authorities. While the use of cryptocurrencies in gambling does not change its legal status, it is important for crypto casinos to comply with the relevant laws and regulations in the state.
Delaware
This state was one of the first to legalize online gambling, which includes casino games and poker. Crypto casinos operating in Delaware must follow the state's regulations and acquire proper licensing from the Delaware Division of Gaming Enforcement. Although there is no specific law addressing the use of cryptocurrencies for gambling, adhering to the existing regulations is key to ensure legality.
Pennsylvania
The state of Pennsylvania has made online gambling legal. Players from this state can wager on sports, play casino games and poker.
Crypto casinos can operate legally in the state if they adhere to the Pennsylvanian Gaming Board's regulations and obtain the necessary licenses.
While cryptocurrencies offer an appealing way to gamble, crypto casinos must follow the state's gambling laws.
Michigan
This state has embraced online gambling, including sports betting, casino games, and poker. To be considered a legal entity in Michigan, crypto casinos must be licensed and regulated by the Michigan Gaming Control Board.
The use of cryptocurrencies in gambling is not explicitly addressed in the state's laws; however, complying with the existing regulations is crucial for maintaining legality.
West Virginia
Another state that has legalized online gambling is West Virginia. They have included sports betting and casino games. Crypto casinos must adhere to the West Virginia Lottery Commission's regulations and acquire the appropriate legal license. Although the state's laws do not specifically address the use of cryptocurrencies in gambling, following the existing regulations is essential for ensuring legality.
Virginia
In Virginia, online sports betting is legal, while online casinos and poker remain unregulated. Crypto casinos are not explicitly mentioned in the state's laws. |Therefore, whether they can legally operate in this state is unclear. However, as with other states, compliance with existing regulations is key to ensuring legality.

States Where Crypto Casinos Are Illegal
In the United States, gambling laws vary significantly from state to state. Online gambling is explicitly illegal in Idaho and Hawaii.
Other states have varying degrees of restrictions on gambling, with Utah and Hawaii completely banning all forms of gambling.
It's essential to be aware of each state's specific laws and regulations, as online gambling and poker legislation in the U.S. constantly change state by state.
There are several reasons why online gambling is illegal in some states. One reason is that some states believe online gambling harms individuals and families. Another reason is that some states are concerned about the potential for online gambling to be used for money laundering and other criminal activity.
Risks Of Playing At Bitcoin Casinos
Crypto casinos can offer unique advantages, such as the anonymity of transactions and faster payment processing times.
However, playing at these casinos also carries certain risks that customers should be aware of.
Three significant risks include the volatility of cryptocurrency prices, lack of regulation, and security concerns.
The volatility of cryptocurrency prices is a major risk for customers playing at crypto casinos. The value of cryptocurrencies can rise and fall dramatically quickly, making it difficult to predict the value of winnings, deposits, and withdrawals.
Additionally, market demand and supply may affect a particular cryptocurrency's value.
Therefore, customers playing at crypto casinos should be prepared to handle the possibility of rapid fluctuations in their cryptocurrency holdings.
Another risk customers face when playing at crypto casinos is the lack of regulation. Cryptocurrencies are not currently regulated by governments or financial institutions, which means there is no safety net for customers in case of fraud or scams.
This lack of regulation also means that customers are responsible for protecting their own assets and making sure that the casino they are playing at is legitimate.
Security concerns are also a significant risk when playing at crypto casinos.
Cryptocurrencies are stored in digital wallets that are vulnerable to cyberattacks. In the event of a cyberattack, customers risk losing their cryptocurrencies or having their personal information compromised.
Therefore, it is crucial for customers to choose a reputable crypto casino with strong security measures in place to protect against potential threats.
How To Choose A Legitimate Crypto Casino
Crypto casinos offer numerous advantages, such as security, speed, and anonymity. To enjoy these benefits, it is crucial to select a legitimate crypto casino by considering factors like licensing, reputation, game selection, and customer support.
Here is a comprehensive guide to help you make an informed decision:
Licensing and Regulation
Before selecting a crypto, ensure that it is licensed and regulated by a reputable authority. Licensing bodies ensure that the casinos operate within the confines of the law and maintain fair play. Look for information about the casino's license on their website, usually in the footer or the "About Us" section. Keep in mind that some licensing bodies are more reputable than others, so verify the licensing authority's credibility as well.
Reputation and Trustworthiness
A trustworthy crypto casino will have a good reputation among players and within the online gaming community. To evaluate the reputation of a casino, check for reviews on forums of third-party websites.
These reviews often provide valuable insights into the experiences of other players.
Additionally, verify if the casino has any reported instances of scams or fraud. It is also essential to confirm that the casino uses encryption and secure connections to protect user data and transactions.
Game Selection And Fairness
The variety of games a crypto casino offers is another vital factor to consider. A reputable casino will provide various games, including slots, table games, and live dealer games. Ensure that the games are designed by reliable software providers known for their fairness and high-quality gaming experiences.
Furthermore, look for casinos that utilize provably fair systems, allowing players to verify each game outcome's fairness.
This transparency is a significant advantage of crypto casinos over traditional ones.
Customer Support and Payment Options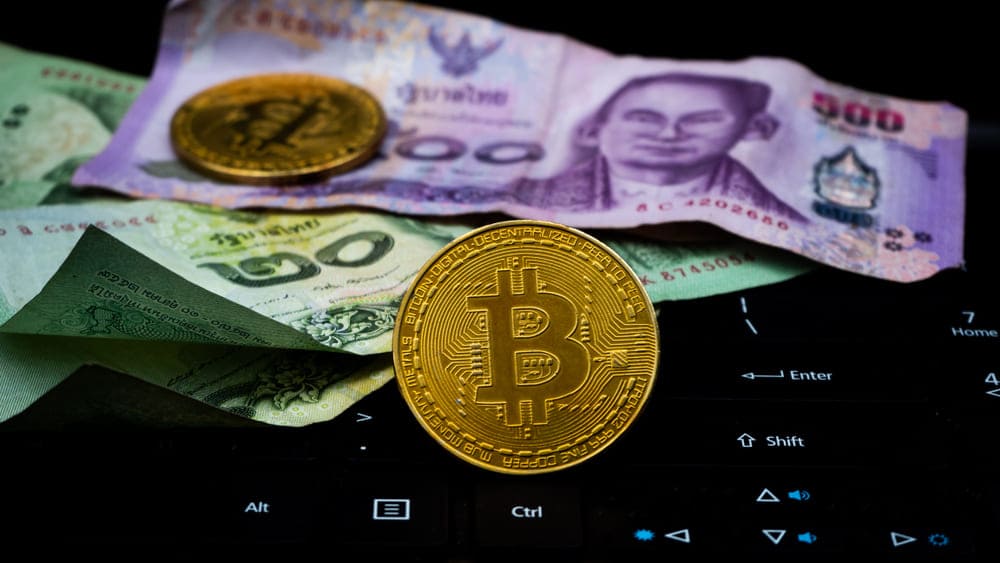 Effective customer support is essential for resolving any issues or answering questions that may arise during your gaming experience. Choose a crypto casino that offers multiple support languages and various contact options, such as live chat, email, or phone.
Additionally, consider the available payment options for deposits and withdrawals.
A legitimate crypto casino should support multiple cryptocurrencies and offer a seamless, secure, and fast transaction process. 
Key Takeaways
Bitcoin casinos are online gambling platforms that accept cryptocurrencies, such as bitcoin, ether, or litecoin, as a form of payment.
Bitcoin casinos operate outside the jurisdiction of the US federal and state laws, which makes them risky and potentially illegal for US players.
The legality of bitcoin casinos in the US depends on the state where the player resides, as each state has its own regulations regarding online gambling and cryptocurrencies.
Some states, such as New Jersey, Nevada, Delaware, and Pennsylvania, have legalized online gambling and have issued licenses to regulated operators. However, these operators do not accept cryptocurrencies, so players in these states cannot use bitcoin casinos legally.
Other states, such as Montana, Illinois, and Washington, have explicitly banned online gambling and have imposed penalties for anyone who engages in it. Therefore, players in these states should avoid bitcoin casinos at all costs.
The rest of the states have a gray area when it comes to online gambling and cryptocurrencies. Some of them may allow online gambling under certain conditions, such as using offshore platforms or playing for fun. Others may have ambiguous or outdated laws that do not address the issue of bitcoin casinos. In these cases, players should exercise caution and consult a lawyer before using bitcoin casinos.
Bitcoin casinos offer some advantages over traditional online casinos, such as anonymity, fast transactions, low fees, and provably fair games. However, they also come with some drawbacks, such as volatility, security risks, lack of regulation, and limited customer support.
Players who decide to use bitcoin casinos should do their research and choose reputable platforms that have a good reputation, a valid license, a large selection of games, and a strong customer service. They should also be aware of the risks involved and gamble responsibly.
Conclusion
The Legality of crypto casinos in the US remains a complex and nuanced issue.
It is evident that the legal status of crypto casinos varies depending on the specific jurisdiction and the individual casino.
As with traditional casinos, compliance with anti-money laundering checks is crucial in determining legality.
While the UK High Court has recognized cryptocurrencies as property under English law, the US legal landscape may continue to evolve. Further research into US-specific regulations is necessary to provide a more comprehensive understanding.
As for the prospects of future legalization, the rapid development of cryptocurrencies and their increasing mainstream acceptance could pave the way for more widespread regulation and legalization of crypto casinos.
However, this will depend on the ability of crypto casinos to demonstrate strict adherence to anti-money laundering regulations and other relevant laws.
In the meantime, potential players should exercise caution and carefully research the legal status of any crypto casino they consider using in their specific jurisdiction.
In our final thoughts, it is clear that the legal landscape surrounding crypto casinos is constantly evolving. Understanding the nuances of these regulations will be crucial for operators and players. As the world continues to embrace digital currencies and their potential uses, it is imperative for all stakeholders to stay informed and engaged in the ongoing conversation surrounding the future of crypto casinos and their place in the wider gambling industry.
Frequently Asked Questions